Scuba diving is a leisure activity that everyone can enjoy. Children, adults and even
seniors, anyone can do it! You would like to start diving and become an explorer of
the seabed? But you hesitate to take the step and dive into the unknown...
Subea gives you ten reasons that should persuade you to cross the threshold and head for new underwater adventures!
1. The Discovery Of Another World
Only about 10% of the Earth's surface is more than 24 hours away. Today we can discover places that were once reserved for special explorers. The whole surface of the Earth has been explored, but the Earth is 70% covered with water, about which very little is known. Today, only 1% of the surface of the oceans is accessible to recreational divers but this is enough for several lifetimes of exploration.
2. The Beauty Of The Seabed
The underwater world is full of wonderful treasures to discover 
Why is diving so fascinating? Beyond being able to breathe underwater, to cross borders which until now were impassable, it's the possibility of discovering underwater landscapes. As on land, the seabed has a wide variety of climates and ecosystems. Diving enables us to observe the sanctuaries of the depths, where flora and fauna form gardens that are a vision of paradise. Like the Great Barrier Reef in Australia, the Red Sea in Egypt, the Galapagos Islands, the Truk Islands in the heart of the Pacific, Silfra in Iceland, the Cenotes in Mexico, the ephemeral Green Lake in Austria... And so many other incredible places to discover!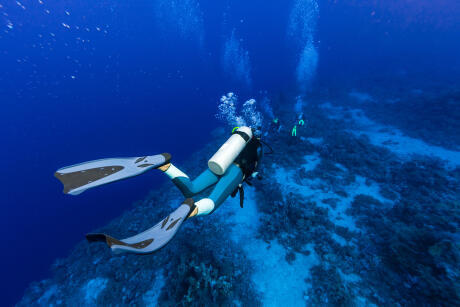 Enjoy the silence under water
When submerged, you can relax. Very far from the noise of the city.Here the silence of the sea holds sway, enabling you to easily perceive the hissing of the bubbles joining the surface and mingling with the sounds of aquatic organisms. Once fear of the water subsides, the undersea becomes a place to discover and, fully unwound, you'll entirely enjoy your dive. Relax ! In the event of panic, trust your instructor. He'll calmly teach you to focus on your breathing like when you do yoga ("ujjayi"). Being able to hear oneself breathing allows an intense relaxation. So don't be afraid and let yourself be rocked by the swell.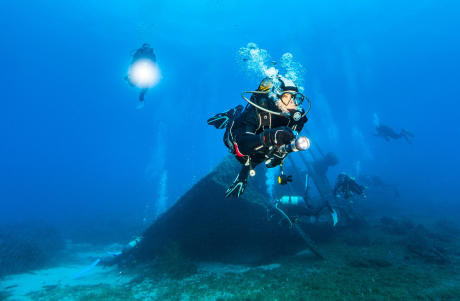 4. The Feeling Of Weightlessness
Who hasn't dreamt of flying 
Diving is a good way to move from dreams to reality. Underwater, buoyancy means you're no longer limited to walking on a hard surface. You can travel the underwater space, fly over shipwrecks, sail among kelp forests or swim among schools of fish.
Scuba diving is a recreational sport for everyone, young or old, male or female. It's a gentle activity, not very hard on the body and particularly relaxing. This is what makes diving a sport for everyone. No need to be a top-level athlete - diving doesn't require more effort than walking or leisure cycling. Of course, you have to choose the right place and the right type of diving, as well as trust your instructor to whom you will need to specify your level of diving. Diving can become physically demanding, so it's better to go see a doctor and obtain a certificate of fitness for the diving, followed by regular check-ups. These check-ups will help optimise your training.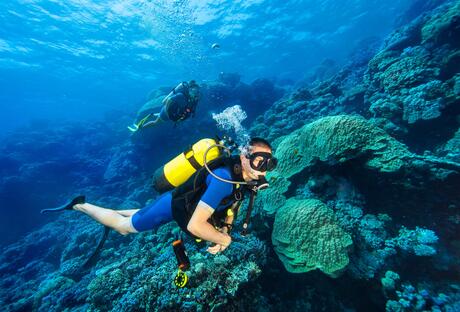 Though the risks are low, caution and vigilance is a must!
Diving is classified as an extreme sport, but recreational diving with certified and experienced accompanying personnel becomes a nautical activity open to all. The risks of diving accidents are very low as long as you respect the basic rules that you will be taught, and you remain vigilant.
Diving is not only a leisure activity, it is a way of life!
Diving goes well beyond exploration and adventure. It makes you discover new destinations and new cultures and allows you to create social bonds. It becomes your lifestyle, at home as well as away. Diving is one of the few activities that adapts to persons and their interests. It can be strong and intense but also soothing and relaxing. People of different ages, from different professions and cultures, come together and share the pleasure of discovering the underwater environment thanks to this beautiful community of divers.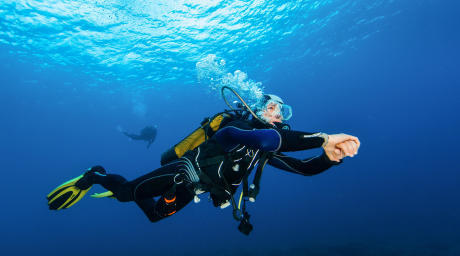 8. Fitness And Physical Exercise
A leisure activity, but also a sport!
Diving is a sport that, like most sporting activities, benefits your body. It's estimated that 45 minutes of diving allow you to burn between 450 and 550 calories depending on the diving conditions. This is similar to average-effort cycling or low-speed running for the same amount of time. The "finning" movement, for its part, makes it possible to tone up thighs, buttocks and abdominals and thus slim down your body. Finally, since we dive in water, it's easy on the joints due to buoyancy, with the extra bonus of all the beneficial effects that the water provides.
9. Opportunities For A Rewarding Career
And why not take up diving professionally?
For many people, diving is a leisure activity, but not exclusively... Many jobs stem from this activity and it's quite possible to consider making a career in scuba-diving. Whether in the fields of sports, management, commerce, science or research, in a civilian or military context. So many possibilities for you to combine your work and your passion
10. Expand Your Knowledge
Diving requires you to constantly expand your knowledge and perfect your technique if it's to be enjoyed safely. You'll need to get to know your equipment and how it works, but also the physical properties of the underwater world that will have consequences on your physiology as well as on the way that you perceive your environment. Underwater exploration will make you become aware of how fragile ecosystems are and how important it is to safeguard the undersea environment. Thus, from an underwater explorer, you'll become an ambassador of the oceans!