A stand-up paddle board is exactly what it sounds like: a big board on which you paddle, standing up! As a sport, it has really taken off because you can get to grips with it very quickly, you do not have to be particularly fit to do it and it can be done on any inland body of water or in the sea. So there's no excuse not to get started right away!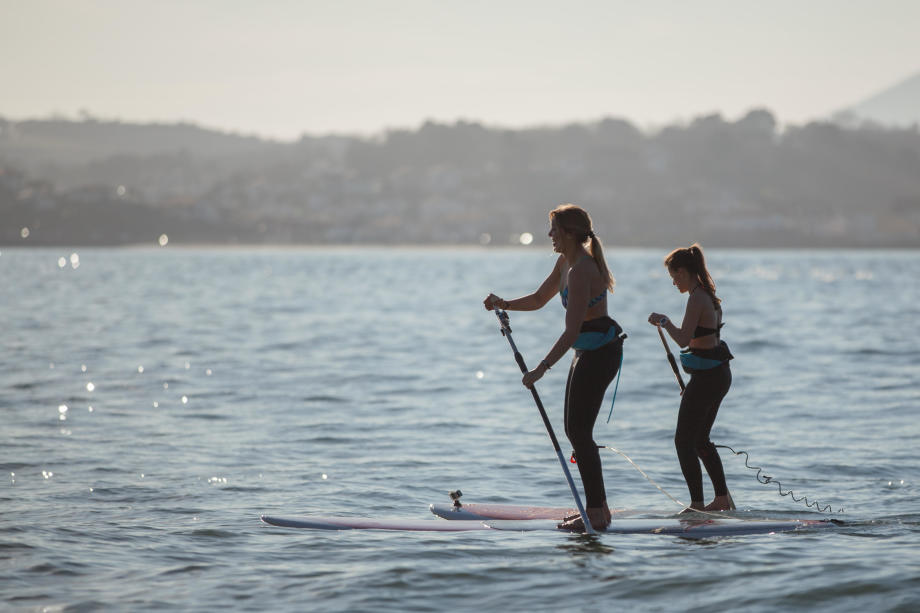 1. What Is Stand-Up Paddle Boarding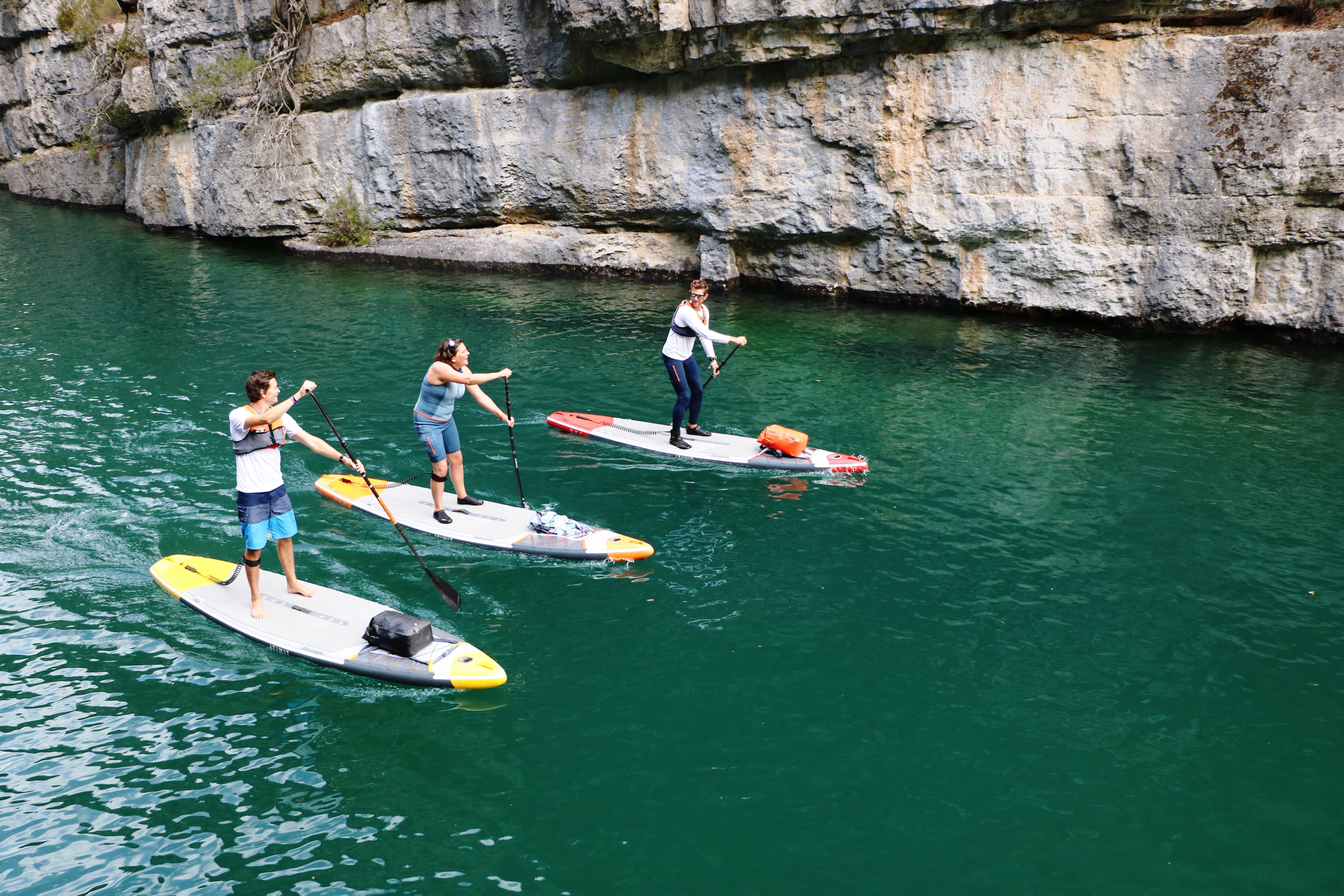 Stand-up paddle boarding is an ancient Hawaiian sport that was brought up to date a few years ago and that has gone from strength to strength since thanks to it being easy to learn. Also called "SUP" or even "paddle surfing", this new water sport can be mastered in a few minutes on flat water and lets you cruise on the water at your own pace in the sea, on a lake or other inland bodies of water.
The practice is divided into 3 categories:
 - touring with wide and very stable boards
 - racing with longer and narrower boards for maximum speed
 - surfing with short and wide boards for better handling in the waves
There are 2 types of construction:
- inflatable boards (perfect for beginners), which are very sturdy, inflate in a few minutes, fit in a big backpack and can be stored in the boot of the car
- rigid (or hard) boards (geared towards advanced surfers or racers), which are more powerful, more fragile and require a roof rack to transport them
2. The Basics Of Stand-Up Paddle Boarding
To start SUP, you need a wide board for good stability (preferably inflatable as it is easier to transport), a paddle and flat water without any wind or current.
For safety, a cord (leash) connects the board to your leg. If you fall in, the board will never be far away from you. For added safety, you can wear a buoyancy aid. If you take your child on the board with you, they must wear a life jacket.
When you set off for the first time, start on your knees to get your balance on the board and then stand up with your knees bent for more stability. Start paddling on one side with the blade of the paddle open to the front. Then when the board begins to turn due to the row effect, paddle on the other side by changing hands with the paddle.
And that's it, now you know how to SUP!
3. The Benefits Of Stand-Up Paddle Boarding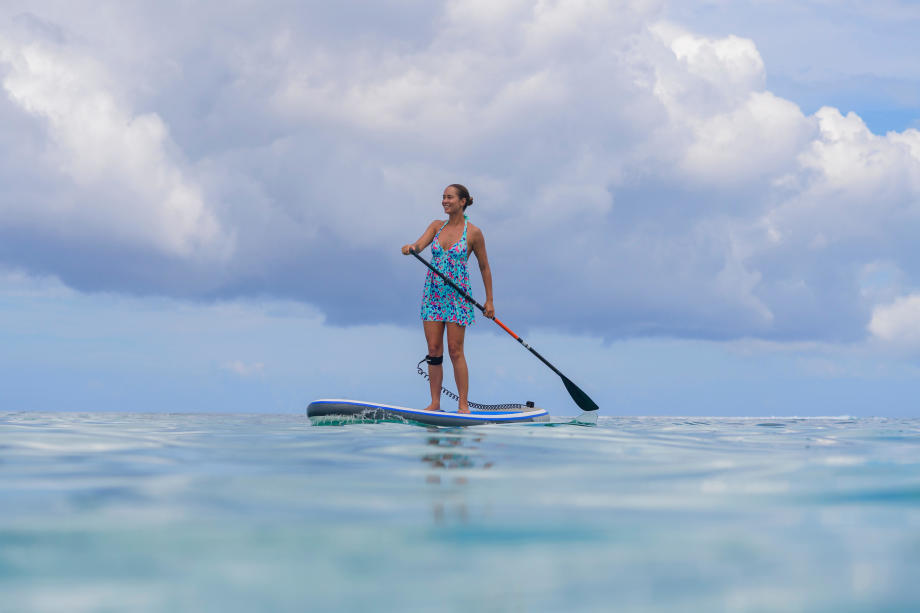 The nice thing about stand-up paddle boarding is that you are doing physical activity without even realising it. Paddling while standing on the board, even at a slow speed, is a good workout for the cardiovascular system but also for several muscle groups:
     - your legs work to provide stability (proprioception),
     - your core transmits the paddling force to the board
     - your upper body (shoulders, arms, back) are used in the paddling motion.
If you are using an inflatable board, using the pump for a few minutes to reach the correct inflation pressure is also a good way to warm up before you start.
And all of this in the open air, enjoying the scenery and cruising on the water in the peace and quiet of nature!
4. Stand-Up Paddle Boarding, Is It For You?
Everyone can SUP safely on flat water with no wind or current. Children can start by sitting at the front of the parent's board before standing up alone with the paddle adjusted to their size (arms stretched over the head, the handle should reach the wrist).
And the only risk is then becoming completely addicted to this sport, going out for longer and longer trips or trying to go faster by progressing with your paddling technique, or even having fun surfing small waves.
If you paddle alone, wear a buoyancy aid (some come with a water bladder to easily stay hydrated), a waterproof pouch for your phone if necessary, and do not forget to always check the weather before you get in the water. Headwinds, tide and current can seriously disrupt your trip
For easy transport and storage, we recommend using an inflatable SUP board and a paddle that is both adjustable (for several people) and detachable (to fit in the inflatable SUP bag). Add a buoyancy aid for safety and a dry bag so that you can take your belongings on the water and you are ready for adventure!
There are extremely rigid and very strong inflatable models available that use a special high-pressure technology. So you can choose an occasional touring, regular touring, racing or surfing board that fits in a big backpack when it is deflated and inflates in a few minutes with a high-pressure pump.
To avoid choosing the wrong size, choose an adjustable-height paddle that can be used by the whole family. Its weight can be of enormous importance, especially for long trips. Aluminium models are sturdy but heavy (1kg), carbon ones are much lighter (up to 500g). If you want to be able to store the paddle in the inflatable SUP's bag, choose a two-part detachable model.
To inflate your board in a few minutes, you can choose a double-action high-pressure manual pump (inflates on both the up and down strokes) or even triple action (larger and faster than the double action). If you are finding the inflation stage too difficult, opt for an electric pump that plugs into your car's cigarette lighter. While you get changed, the board automatically inflates to the correct pressure—simple!
You have to admit, there is no reason not to try this oh-so-easy new water sport without delay! 
So, see you on the water?