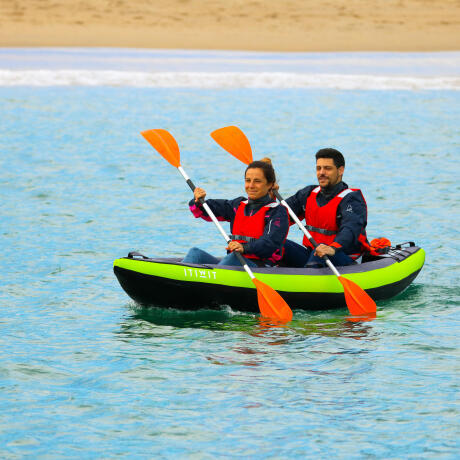 To get you started with some leisurely kayaking, there is no need to invest in very technical equipment. It is often easier to start with a polyethylene (plastic) sit-on-top kayak or an inflatable kayak.
There are several different kayak models, but some of them come with accessories designed with a specific focus on the water element; it is the case of kayaks that come with outside netting for storage or watertight compartments that allow you to bring stuff along that will remain tidy and dry.
2. Your Touring Kayak Paddle
For your first few outings, you can use an entry-level Itiwit paddle, with an aluminium shaft and plastic handle, for a very reasonable price.
You can also go straight for a higher-end model, with an aluminium and carbon shaft; this material blend lightens the weight of the paddle, reducing arm fatigue during long rides.
3. Life Jackets And Safe Kayaking
Entry-level life jackets and those for beginners provide the minimum required, but unfortunately they are often not very practical. By opting for a mid-range life jacket, you'll benefit from having pockets, storage and accessories. 
The best option? A kayaking life jacket equipped with a safety strap to hang your leash!
4. Gear For A 2-hour Sea Kayaking Trip
For a kayaking trip of over 2 hours, plan to bring:
1.5 l of water (per person)
Snacks (dried fruit, granola bars)
First-aid kit for minor injuries
Waterproof cell phone or one fitted with a waterproof pouch
Spare paddle (one that can be dismantled for easy storage)
Waterproof sunblock, hat and sunglasses (minimum protection of 3; beware that it is forbidden to paddle with a 4 protection)
For back comfort, add a backrest.
There is no watertight compartment in your boat? Consider buying a waterproof container with a capacity of 25 l to 30 l; a good size for storing your accessories on board hassle-free. 
You've got all your gear and necessary info; now all you need is to find an experienced adventure companion that will show you the right spots and the fundamentals of navigation!
5. The Best Times To Go Out Sea Kayaking
Kayaking is often associated with summer. However, summer is not necessarily the most favourable season to start out at sea! 
In fact, the days are very hot, and there are too many people out enjoying the ocean during this vacation period; boats and jet skis ply the waters and can be a source of stress for kayaking beginners.
Rather, take advantage of a beautiful spring day, sunny or slightly cloudy, and especially without wind. To avoid the latter, it is best to get out in the morning: the time of day when the weather and sea conditions are usually calm. Though it is not uncommon to find a sea of oil already at 8 in the morning.  
But always check the weather before heading out, because a calm sea at 8 can get stormy and windy by 10:00! 
Here you are equipped and informed: all you have to do is find an experienced adventure companion who will show you the adapted spots and the fundamentals of navigation!